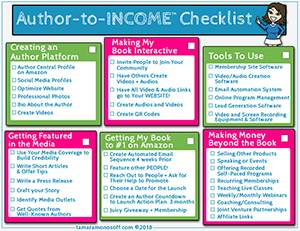 Welcome to Tamaramonosoff.com your one stop author shop! People are raving about Tamara's step-by-step programs that help you (re)launch, market & make money with your books and build a highly profitable business that you love!
Watch the Video Message from Tamara Below and Take Action today! 
The Author-to-Income Program shows authors, experts and entrepreneurs how to build a high-profit business as an author. It includes step-by-step strategies on how to stand out from the crowd, gain media attention, become an Amazon bestseller and generate multiple streams of income by leveraging their expertise and book.
Our coveted Author Success Hub gives you exclusive access to ALL of Tamara's resources, media contacts, templates, how-to tips, scripts, video tutorials and much more. New content and contacts are updated every month with your subscription. 
"Self-Publishing Success Secrets" is a dynamic mini-course, which gives you the step-by-step process of how to self-publish your book. Tamara shows exactly how to upload your print and digital books to Amazon. How to select the best categories and pricing to increase book sales.
With the "Make Money with Free Webinars" Program, you will get everything you need to reach a bigger audience, make more sales, and generate more income with free webinars...even if you've never offered a webinar before. 
Join my exclusive Mastermind Group for Author-to-Income program graduates and experience a whole new level of success. We have assembled a group of bright, motivated Authors who want to further build their Author Platforms & generate multiple streams of income with book publishing, live events, speaking, membership sites, product creation, social media, webinars, and much more.
The complete "Done-For-You" package is perfect for the busy Author who doesn't have the time or desire to learn the technology, but wants results. The "Done-for-You" program takes all the guesswork out of your book launch. We will do it for you!  Are you ready to HIT IT BIG? Go from unknown Author to sought-after Expert/Celebrity - generating multiple streams of revenue with your Author business!
As an Author Success Hub member, you will be invited to my Authors in the Spotlight page on tamaramonosoff.com. You will gain the exposure of my audience, as I feature YOU, your book, and your website for as long as you are a member in the Author Hub.  
An easy-to-follow, step-by-step guide that show you exactly how to publish your book on Amazon's CreateSpace.
 Discover what the buzz is all about!
Featured in Oprah Magazine
"Tamara, I am following your step-by-step methods and I just realized that every good thing that is happening with my book is linked to you! I hit #1 on Amazon with my launch, last night NBC/Bay Area had me on their show and I just found out that I will be featured in Oprah Magazine in August! Your Author-to-Income program has made all the difference in how my new book, "Finding the Wow" is taking off! Words can't even describe how grateful I am. Your program is worth every penny! Thank you!"
- MJ Margraff, Author of "Finding the Wow"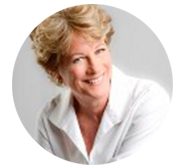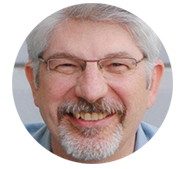 "Monetize that Book Forever"
"If you've written a book, or you're writing a book, or you're thinking of writing a book, you MUST take Tamara's program to see how to monetize that book forever!"
- David Perdew, President of NAMS
Tamara's books and products have been featured in: Wall Street Journal, New York Times, Los Angeles Times, USA Today, The New Yorker, TIME, PEOPLE, US NEWS & WORLD REPORT, OPRAH, Woman's Day, Every Day with Rachael Ray and more. She has appeared on ABC's The View, NBC's Today Show, NBC's Nightly News, Good Morning America Weekend, The Bloomberg Report, BusinessWeek TV, CNN News LIVE and many more. Read more about Tamara...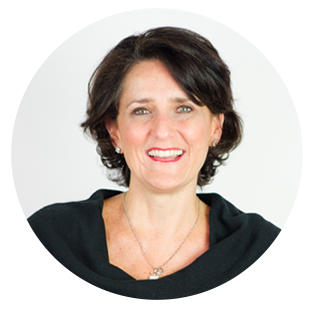 FEATURED TRAININGS & SERVICES
Launch, Market & Make Money with Your Book
Get your free checklist.